Daily Archives: April 7, 2013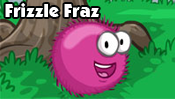 Bouncy, swimmy, friendly Big Frizzle to the rescue! Rescue little frizzles and collect keys while avoiding the nasties.
Practice decimals with this version of the game City Under Siege. Sunray City has just been hit by a surprise air force attack. Your objective is to defend the city by giving Lt. Isaac coordinates of the attacking planes to shoot down.