Monthly Archives: March 2013
Perform breath taking tricks on your skateboard as you hurtle up and down the u-pipe at blistering speeds. To win you must entertain the audience by executing the tricks they demand to beat your opponent.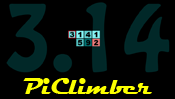 This game is a tribute to Pi (also known as 3.14). The digits of Pi form the different stages of the game, and your job is to think your way through to the last digit in the best possible way.
Just in time for March 17th - 12 new St. Patrick's Day recipes. These rainbow and shamrock inspired recipes will be a great addition to your St. Patrick's Day festivities.
Check it out here
!