Monthly Archives: July 2012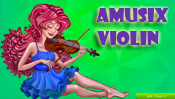 In Amusix: Violin you can be a master fiddler! Play classical, folk, and modern songs on your violin in this fluid, easy-to-understand game. Unlock the inner musician in you!
Step onto the football pitch in the fully packed stadium to score the winning goal to be crowned the European Soccer Champion.